HYPERBARIC EQUIPMENT
Decompression Chambers
Pacific Commercial is able to supply a range of decompression chambers to suit the needs of commercial diving, medical applications and military needs.
Chambers can be of standard designs or manufactured to suit specific customer requirements. Chambers are manufactured to IMCA and all relevant standards where required.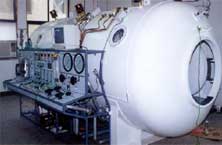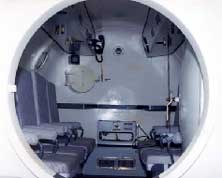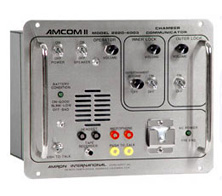 Chamber Accessories
Amron 2820-4003 Double Lock Communicator
The Amcom 2820-4003 Standard Model features two-way communications between the chamber operator and occupants within the chamber. Full featured hard wire, two lock systems which have independent volume controls for the operator and separate on/off controls for each lock. The system is supplied with a noise canceling hand-held microphone for use by the operator. The microphone has automatic talk back speaker cutout which enhances communications quality by reducing the background noise to the chamber occupants.
The Entertainment Model 2820-4003E has an amplifier to provide audio from any source, such as AM, FM, CD, TV, etc. The 2820-4003E has a separate on/off volume control for the entertainment channel and the entertainment monaural audio is interrupted when the hand-held microphone or push to talk switch is activated.
Model 2820-4003 Features:
Two modes of operation: simple intercom type operation and/or duplex type operation (Simulcom)
Available with amplifier for entertainment
AC power with battery back-up. Automatic charging
External 12 VDC connection
Noise canceling hand-held push to talk microphone
Built-In Isolation Transformer
Separate volume controls for operator and each lock
Separate on/off controls for each lock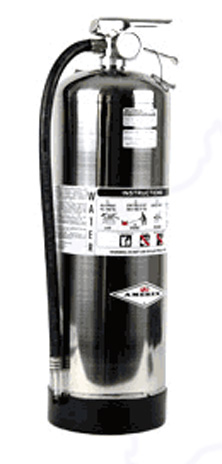 Amron Model 240 Fire Extinguisher
The Amron Model 240 Modified Class 2-A Tested to ANSI/UL711 and 626 modified extinguisher provides fire fighting safety equipment designed for the pressures and confines of a chamber. The Model 240 has been fully tested and approved for use in all U.S. Navy standard double lock chambers.
In actual operation the Model 240 is filled with potable water and then pressurized to 150PSIG. The unit comes complete with a fill valve, pressure gauge and a pressure relief valve factory set at 165PSIG to prevent over pressurization. The Model 240 can be used in a chamber pressurized to a maximum depth of 173 FSW. If the unit is activated at the maximum depth, and held until the water is exhausted, the pressure inside the extinguisher will equal the chamber pressure. With the chamber and extinguisher at equilibrium, the fire extinguisher cannot implode or crush.
If the unit is activated at a depth less than maximum depth, the pressure in the chamber will force open the valve seat, compressing the closure spring and thus equalize the extinguisher to the chamber pressure.
3D Instruments High Precision Gauges
Series 2554 0.25% Full Scale Accuracy
The pnuemo gauge of choice due to its high accuracy, precision quality, and custom tailored dial readings. Available in readings of PSI, FSW, FFW (Feet of Freshwater), BAR, MSW, ISO and Metric Scales as well as other scales and combinations readings in dual scale. The 2554 was designed as a test gauge to recalibrate other gauges of lesser technologies. Series 2554 comes standard with calibration test certificates.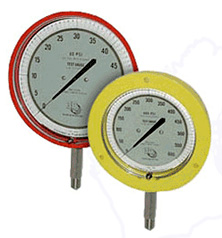 Caisson Gauges
The 2564 Caisson Gauge is used inside the chamber and reads ambient chamber pressure. Accuracy is maintained for both increasing and decreasing pressures and always indicates true gauge pressure and/or a simulated depth in a chamber. Caisson Gauges come standard with calibration certificates and cleaned for oxygen service.
Helical wound Bourdon tube
All wetted parts in 316SS or Inconel.
Precision anti-friction sapphire shaft bearings • Needle edged pointer
No Recalibration Required
Adjustable zero set point
One moving part
Separate volume controls for operator and each lock
Longer field service life
Greater reading accuracy
Maintenance free
UL Listed
Corrosion resistant
Bibs & Hoods
Scott Aviation BIBS
The Pressur Vak(TM)II is designed to administer oxygen or gas mixtures to a diver or patient in a hyperbaric chamber environment. The demand regulator assembly provides breathing gas on demand (inhalation). The regulator is designed to operate with a constant inlet pressure of 65 to 125 psi over chamber pressure.
For chamber depths over 60 FSW, a secondary vacuum regulator must be installed (see Tescom Regulator 26-2912-282A). A hull-stop valve should be an integral part of the system as a safety device to shut down the vacuum should a pressure loss occur. The optional pressure reducing regulator is a small reliable regulator assembly with an oxygen coupling.
The vacuum regulator allows the exhaled gases to be carried to the outside
of the chamber thereby eliminating oxygen buildup or contamination of the chamber environment. The vacuum of the exhaled gas is a direct function of the differential pressure of the chamber and the ambient environment.
Warning: The Pressur Vak(TM)II is designed for surface decompression in a recompression chamber and is not intended for underwater use . It may also be used for other applications which require overboard discharge of exhaled gas. It may also be used for other applications which require overboard discharge of exhaled gas.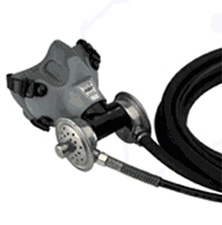 Amron Hoods
The Amron Oxygen Treatment Hood was designed for easy use and cost effective operation within a multiplace or monoplace hyperbaric chamber. The heart of the system is the reusable neck ring with conveniently located supply and exhaust hoses with an O-ring seal for the vinyl hood attachment. The neck ring is designed to withstand multiple cycles in an autoclave. The neck seal features an integrated O-ring for easy replacement and has numbered trim rings for accurate neck sizing.
The supply and exhaust locations allow oxygen to circulate easily throughout the hood at reduced noise levels. A soft flow of gas helps to cool the patient while continually defogging the optical quality viewing window.
An optional pneumatic entertainment system allows patients to listen to monaural music or video sources in complete comfort. A patient-operated volume control and channel selector switch eliminates the need to disturb attending nurses or chamber operators. No electrical power is ever supplied directly to the hood which ensures safe operation and peace of mind.
Optimum cooling and noise reduction
Reusable neck ring (Autoclavable)
Conveniently located hoses reduce bulk and improve comfort
Designed for simplicity, performance, economy and ease of use
Innovative design allows patient to recline comfortably
Multi-purpose port for gas analysis or entertainment option
Positive O-ring seal between hood and neck ring
Soft vinyl hood with extra large optical quality window
Replaceable surgical latex neck seal with sized trim lines
Optional Entertainment system with pneumatic headset